PROJECT DESCRIPTION
Threads and Trails are binding elements between our journeys of research, conceptualization, and enlightenment of our maternal familial lines. Cybele Moon dives into her Slovakian history through oral histories, traditions, and textiles. Erica Larsen-Dockray explores the texts from pioneer women on the Oregon Trail as they passed over the land where she grew up in Scottsbluff, Nebraska. This collaboration between Larsen-Dockray and Moon builds on their previous works exploring reproductive issues and sculptural costume which have combined installation, projection, moving image and live performance.
Development of this collaboration will shift between three phases of focus between each artist's pursuit of her history and will culminate in a shared exploration of the connections between their studies.
Phase one, titled "A Modern Woman's Wit" was workshopped at Wesleyan University in Middletown, CT in the Spring of 2018. This performative installation, is inspired by the gender-based challenges and oral traditions as found in the Slovak folktale, "A Woman's Wit".
​
The folktale reflects similar struggles of upward mobility the artist experienced navigating her professional career in higher education and theater. The interactive event combined animated projections, audible storytelling, and textile elements which echoed the two stories.
Phase two will narrow in and further define the relationships to the content, its subversive narratives, and aesthetics of the space. Content focuses on Larsen-Dockray's relationship to the westward travels of the female pioneers to her own journey west.
Phase three is the final culmination of the two explorations into the artists' introspective journeys into their histories and incorporate feedback from broader voices.
The shapes of covered wagons, Slovakian bridal headdresses, Nebraskan and Slovakian landscapes are some of the sculptural elements to be explored.
Viewers will walk under, through and around various soft structures containing visual elements conveying stories and connections to our specific journeys with those of women in days gone by.
Elements such as colors, pattern, shapes, and text from each culture and period will be translated into sound, projection, light, and space to form the installation.
CREATIVE DIRECTORS + LEAD COLLABORATORS
CYBELE MOON
PRONOUNS: SHE/HER/HERS
RESIDING/WORKING FROM: Lenni-Lenape lands
ARTIST BIO
Cybele Moon is a visual artist, costume designer and educator. As a visual artist, Moon works with textiles, cut-paper collage and multi-media Installations. Her work has been exhibited at galleries, public events, and with community organizations in California, Connecticut, Illinois, and Pennsylvania.
As a costume designer she has worked with theater and dance companies, as well as colleges and universities to design and create costumes for over 140 productions. Her work has been seen onstage in New York, Chicago, Philadelphia, Los Angeles, New Orleans and many other locations across the United States.
Moon has held full-time Academic appointments with Wesleyan University and East Carolina University, in addition to adjunct positions with CalArts, Temple University, the University of the Arts, and Austin Community College. She has given numerous guest lectures at higher education institutions in California, Michigan, North Carolina, Ohio, and Illinois.
Moon is the recipient of multiple grants from academic institutions, and arts organizations, including two Chicago CAAP grants, and a Creative Campus Initiative Grant from Wesleyan University.
She received her MFA from the California Institute of the Arts, her BFA from Ohio University, and was born, raised, and inspired to be an artist by her upbringing in Detroit.
​
CYBELE MOON (L)
Costume Designer, Textile Craft Artisan, Lecturer
Philadelphia, PA
​
ERICA LARSEN-DOCKRAY (R)
Media Artist and Animator, Teaching Artist and Entrepreneur
Los Angeles, CA
ERICA LARSEN-DOCKRAY
PRONOUNS: SHE/HER/HERS
RESIDING/WORKING FROM: Fernandeño Tataviam, Chumash Lands
ARTIST BIO
Erica Larsen-Dockray is an Animation and Media Artist, Educator, Playworker, and Activist. She is an occasional adjunct faculty at her alma mater, California Institute of the Arts (CalArts), in the Film/Video School's Experimental Animation program. Erica's class, The Animated Woman, was covered by the Associated Press and Agencia EFE, and featured in over 1,000 news outlets including the LA Times and the New York Times. In 2020, Erica finished a 9 year tenure as a teaching artist at Inner-City Arts in downtown Los Angeles where she ran the Saturday Middle School and High School Animation courses.
In 2013 she founded the Calibraska Arts Initiative, a cross-cultural summer program bringing artists from California to her hometown in Nebraska to teach multi-generational workshops in their métier. In 2017 the initiative received a $25,000 grant from the Johnny Carson Foundation which was used to purchase 5 animation backpacks allowing the program to expand into a statewide initiative. Erica also is a Co-Founder of SCV Adventure Play Foundation with her husband Jeremiah, creating play spaces for children and adults, which facilitate and support self-directed and unstructured play.
​
Her art practice includes hybrid installations consisting of varying elements such as painting, moving image, dance, theater, interactivity, and experimental projection. Her work has been shown domestically and internationally in cultural institutions such as the Los Angeles Municipal Gallery, The CalArts Expo, Thymele Arts, Future Studio Gallery, The New Children's Museum in San Diego, CA,and at the Art Festival Kesenian Indonesia.
​
You can see her work and more information here:
https://arts.unl.edu/carson-center
​
Phase One:
A Modern Woman's Wit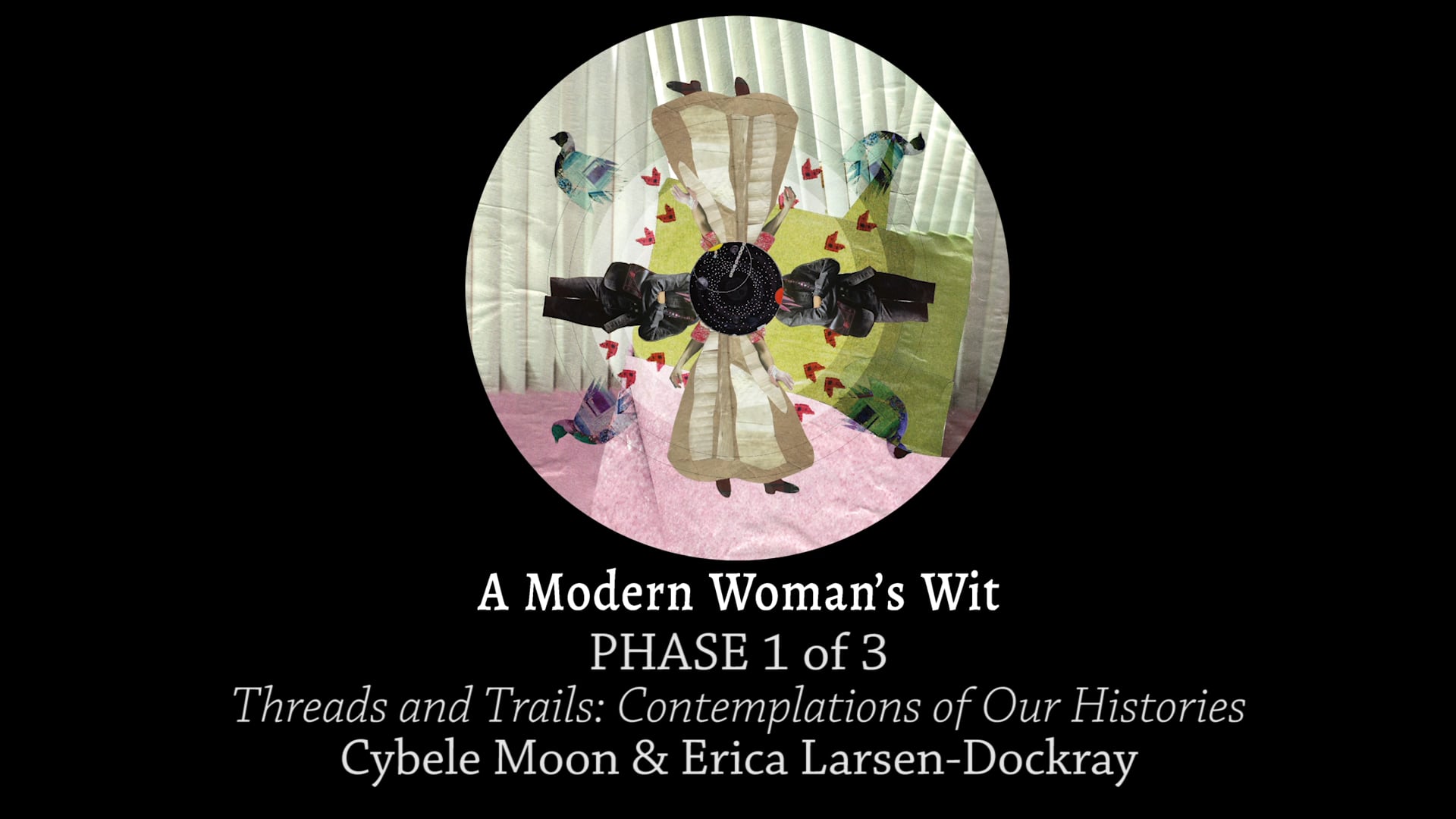 A Modern Woman's Wit Documentation from Wesleyan University
DOCUMENTATION OF PHASE ONE: A MODERN WOMAN'S WIT
​
Exhibited at Davison Arts Center - Wesleyan University
March 2018
​
Supported by Wesleyan University Creative Campus Initiative & Wesleyan University Theater Department
Phase two will be exhibited October 2023 - February 2024 at the Great Plains Art Museum in Lincoln, Nebraska, at the University of Nebraska–Lincoln. The 2,057 square foot gallery will be activated with three dimensional, two dimensional, immersive, performative, and sound based creations. These new works are informed by historical documents specific to Black, Indigenous, Latinx, or White women of the 19th century.
Following are the descriptions of each artist's contribution to the multimedia and performative exhibition.
Stephanie Coley centers her work on Black women homesteaders and cowgirls. She identifies with the difficulties often experienced by people of color seeking information on their family history. Stephanie is re-imagining her own journey to Western Nebraska from her family's roots in Mississippi and North Carolina. Using fairytales and lyrical music as the conduit, Stephanie confronts erasure of African Americans and the same efforts to contort Black identity today. She is creating wall pieces in the form of self-portraits, poetry, and lyrics, and will perform original music inspired by these women. Her work explores themes of identity, erasure, isolation, segregation, bias, and gender.
Eve LaFountain (Turtle Mountain Chippewa) centers her work on Indigenous women. Eve is exploring photographic printing on antique ledger book paper, a process she developed in tribute to the ledger book art of the Plains people. She is planning to incorporate her processes of creating "photographic ghosts" of the trail into her work, as well as rituals in beadwork. Her work explores identity, history, Indigenous futurism, feminism, ghosts, magic, and her mixed Native American and Jewish heritage.
Erica Larsen-Dockray centers her work on single women, mothers, or women who were widowed along the wagon trails. She feels connected to these women through her own journey west from Scottsbluff, Nebraska where many wagon trails converged. In her work, Erica will summon the symbol of the covered wagon as a 15' x 7' x 7' tunnel which viewers can then walk under and around. On the tunnel, Erica is designing projections breaking down the RGBA channels with images from archival photographs, diary entries, historical fiction, charcoal and salt animation. Her work explores the 'Found Family', gender inequity, upward mobility, and search for belonging.
Cybele Moon will collaborate with Erica Larsen-Dockray on the covered wagon. Cybele employs her background in textiles to weave historical and modern themes into the covering of the wagon. Materials such as canvas, calico, and plastic packaging expand the context while creating an experimental surface for projection. Cybele will also produce dramaturgical visuals documenting biographical information about each artist, as well as research sources used in the creation of the show.
Marissa Magdalena Sykes centers her work on Indigenous women in California and Los Angeles. The juxtaposition of Marissa's farming community roots and current urban backdrop inspires her work. Marissa is incorporating the embroidery skills passed down from her grandmother to stitch on blueprints of Los Angeles. She is also conceiving performative aspects which question the norms of physical and social space. Her work explores the concept of California as a source, and a destination.
Threads and Trails will incorporate both pre-recorded and live performance. Pre-recorded examples include; voice over narratives, original song recordings, and spoken word poetry. Live performances will take place on opening night and a First Friday event during the exhibition, with a potential for more. Currently, the artists are exploring interpretations